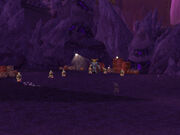 Camp of Boom is the home of a single crazed goblin named Dr. Boom and his numerous exploding robots. The camp can be found hidden in the rocks just northeast of Area 52.
Dr. Boom is often used for sustained damage tests by DPS-minded players.
Ad blocker interference detected!
Wikia is a free-to-use site that makes money from advertising. We have a modified experience for viewers using ad blockers

Wikia is not accessible if you've made further modifications. Remove the custom ad blocker rule(s) and the page will load as expected.