Camp E'thok
is a
Galak
centaur
camp in northwestern
Thousand Needles
.
[19, 22]
The centaurs here raided a caravan that the goblin
Wizlo Bearingshiner
was in, but could not steal his most prized gadget, as it's tied around the neck of a ferocious panther he owns. The enraged panther's cage remains around the camp, untouched.
E'thok may be a reference to the soccer player Samuel Eto'o
In Cataclysm
Edit

This section concerns content exclusive to Cataclysm.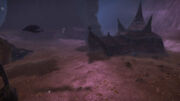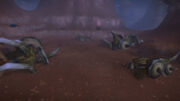 Camp E'thok is submerged in the Cataclysm and subsequently abandoned, as is the nearby caravan.
Ad blocker interference detected!
Wikia is a free-to-use site that makes money from advertising. We have a modified experience for viewers using ad blockers

Wikia is not accessible if you've made further modifications. Remove the custom ad blocker rule(s) and the page will load as expected.