Burstcap Mushroom

"A soft, spongy fungus that can explode into a toxic cloud if not handled properly."
Burstcap Mushroom as a quest objective
Edit
This item is an objective of

 [64] Burstcap Mushrooms, Mon!ω τ ϖ.
As an object
Edit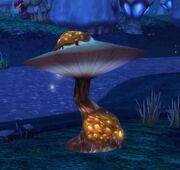 The Burstcap Mushroom is located around the village of Zabra'jin in Zangarmarsh.
Herbalists can find these using their Find Herbs skill.
External links
Edit