Burstcap Mushroom

"A soft, spongy fungus that can explode into a toxic cloud if not handled properly."
Burstcap Mushroom as a quest objective
Edit
This item is an objective of

 [64] Burstcap Mushrooms, Mon!ω τ ϖ.
As an object
Edit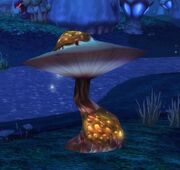 The Burstcap Mushroom is located around the village of Zabra'jin in Zangarmarsh.
Herbalists can find these using their Find Herbs skill.
External links
Edit
Ad blocker interference detected!
Wikia is a free-to-use site that makes money from advertising. We have a modified experience for viewers using ad blockers

Wikia is not accessible if you've made further modifications. Remove the custom ad blocker rule(s) and the page will load as expected.