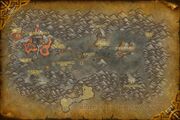 Burning Steppes is a level 50-52 zone on the Eastern Kingdoms. The breadcrumb here comes at the conclusion of the Searing Gorge storyline and leads players to the new camp just south of Blackrock Mountain on the west side of the zone.
The primary storyline covers the Blackrock army's pending invasion of Redridge Mountains!
After Burning Steppes, the next breadcrumb is to Bogpaddle in the Swamp of Sorrows.
Ad blocker interference detected!
Wikia is a free-to-use site that makes money from advertising. We have a modified experience for viewers using ad blockers

Wikia is not accessible if you've made further modifications. Remove the custom ad blocker rule(s) and the page will load as expected.