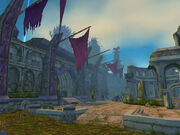 The Broken Commons is an area of Dire Maul. It is located beyond Eldreth Row, but lies outside the three instance portals, each of which is directly accessed from the commons, although the northern and western portal are locked and require the Crescent Key from the eastern section to open. The Maul, Dire Maul's arena, is located in the middle of the Broken Commons.
The eastern portal leads into the Warpwood Quarter area of Dire Maul East. The western portal leads into the Capital Gardens area of Dire Maul West.
Ad blocker interference detected!
Wikia is a free-to-use site that makes money from advertising. We have a modified experience for viewers using ad blockers

Wikia is not accessible if you've made further modifications. Remove the custom ad blocker rule(s) and the page will load as expected.