Broken Bamboo Stalk

"Sharp enough to effectively poke things."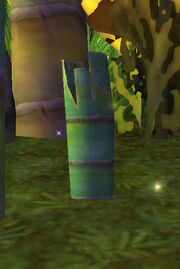 This item is needed for the quest Stocking Stalks, given by Korga Strongmane at the Forlorn Hut on the Wandering Isle.
Patch changes
Edit
Ad blocker interference detected!
Wikia is a free-to-use site that makes money from advertising. We have a modified experience for viewers using ad blockers

Wikia is not accessible if you've made further modifications. Remove the custom ad blocker rule(s) and the page will load as expected.