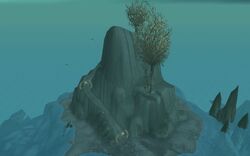 The Briny Pinnacle is an island located just off the coast and west of Moa'ki Harbor in the Dragonblight.[34, 79] Its single, usable object 'The Pearl of the Depths' is used to summon Oacha'noa as part of

 [72] Conversing With the Depths.
Ad blocker interference detected!
Wikia is a free-to-use site that makes money from advertising. We have a modified experience for viewers using ad blockers

Wikia is not accessible if you've made further modifications. Remove the custom ad blocker rule(s) and the page will load as expected.