The subject of this article was removed from World of Warcraft in patch 3.0.2.

This includes items and quests that can no longer be obtained.
The in-game information in this article is kept purely for historical purposes and should probably not be under any other categories.

Brimstone Staff

Item Level

83

Speed 3.20
140 - 251 Damage
(61.1 damage per second)
+30 Intellect
+31 Stamina
Durability 120 / 120
Requires level 60
Equip: Increases your hit rating by 16.
Equip: Increases spell power by 113.
Equip: Increases your critical strike rating by 14.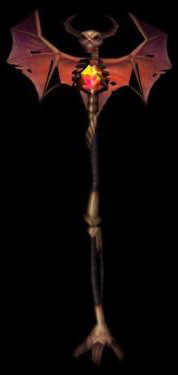 Brimstone Staff is an epic caster staff mostly used by mages and warlocks. Elemental shamans, shadow priests, and balance druids will also benefit from the strong offensive power of this staff.
The item drops from Loatheb in Naxxramas.
The staff's estimated drop rate is 10%.
External links
Edit
Ad blocker interference detected!
Wikia is a free-to-use site that makes money from advertising. We have a modified experience for viewers using ad blockers

Wikia is not accessible if you've made further modifications. Remove the custom ad blocker rule(s) and the page will load as expected.