Were you looking for the NPC Briarthorn, the Warlock trainer?
---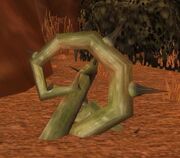 Requires 1 Herbalism to gather.
Briarthorn can often be found near Quilboar settlements and at the base of trees in level 10-25 zones. Rarely, Swiftthistle can be harvested along with Briarthorn by picking Briarthorn Nodes.
Pickable Zones
Edit
Briarthorn as an Ingredient
Edit
Inscription
Edit
According to legend Briarthorn grows where Agamaggan's blood touched the soil of Azeroth after he fell in the War of the Ancients.
External links
Edit

Briarthorn Farming - OmgNab.com
Ad blocker interference detected!
Wikia is a free-to-use site that makes money from advertising. We have a modified experience for viewers using ad blockers

Wikia is not accessible if you've made further modifications. Remove the custom ad blocker rule(s) and the page will load as expected.