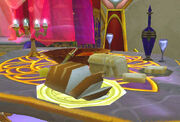 Bread is a type of food made from a dough of flour and water, usually by baking.
There are many combinations and proportions of types of flour and other ingredients, and also of different traditional recipes and modes of preparation of bread. Regardless of where the player is, however, it is almost impossible for them to avoid bread; it has served as a staple of most civilizations since their inception, from Humans to Pandaren. It is one of the six main types of food in WoW.
(These are the same uses as other types of food.)
Types of buyable bread
Edit
1 This is the base price before any discounts.
See also: Bread vendor
Types of conjurable bread
Edit
Ad blocker interference detected!
Wikia is a free-to-use site that makes money from advertising. We have a modified experience for viewers using ad blockers

Wikia is not accessible if you've made further modifications. Remove the custom ad blocker rule(s) and the page will load as expected.