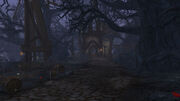 The Bradshaw Mill[63.5, 84] is the home of an old man with the same surname, Bradshaw. He witnessed the worgen attacks while in Stormglen Village and wrote a journal detailing the experience before venturing into the Blackwald. While he was never heard from again, his abandoned mill was used as a hideout for a certain night elf priestess. This is the first encounter worgen players have with that race.
Inhabitants
Edit
Worgen starting experience only.
Patch changes
Edit
External links
Edit
Ad blocker interference detected!
Wikia is a free-to-use site that makes money from advertising. We have a modified experience for viewers using ad blockers

Wikia is not accessible if you've made further modifications. Remove the custom ad blocker rule(s) and the page will load as expected.