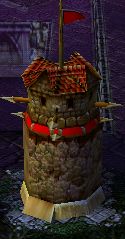 The Boulder Tower is the second tower available for the Blood Elf Engineer to build in the "secret" Frozen Throne Human Campaign level. It was also found in the Warcraft III Frozen Throne Expansion Human Campaign protecting the Draenei base and in the scenario map Blizzard Tower Defense. It has a lot of piercing damage and can only attack ground units.
Ad blocker interference detected!
Wikia is a free-to-use site that makes money from advertising. We have a modified experience for viewers using ad blockers

Wikia is not accessible if you've made further modifications. Remove the custom ad blocker rule(s) and the page will load as expected.