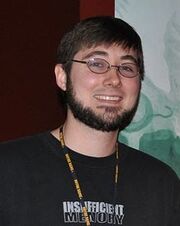 Bornakk is a member of the CM team on the US forums. Apparently, he is sitting across from Drysc.[2] His avatar was inspired by one of the novels[3] and chosen because he likes the lore behind the Mag'har, as well as the mohawk.[4]
Bornakk once had a Tiny Crimson Whelpling drop from the first dragon mob he killed in the Wetlands, to the chagrin of Eyonix, who was still grinding through over 2000 dragon mobs for the same one at the time.[5]
References
Edit
Ad blocker interference detected!
Wikia is a free-to-use site that makes money from advertising. We have a modified experience for viewers using ad blockers

Wikia is not accessible if you've made further modifications. Remove the custom ad blocker rule(s) and the page will load as expected.