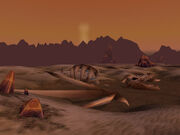 The Bones of Grakkarond lie in central Silithus. They are the huge bones of the bronze dragon Grakkarond, who died during the War of the Shifting Sands.
He was slain by Ossirian the Unscarred.
Patch changes
Edit
Patch 1.4.0

(2005-05-05): The dragon bones just to the southwest of The Swarming Pillar in Silithus have been named the Bones of Grakkarond.

Ad blocker interference detected!
Wikia is a free-to-use site that makes money from advertising. We have a modified experience for viewers using ad blockers

Wikia is not accessible if you've made further modifications. Remove the custom ad blocker rule(s) and the page will load as expected.