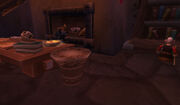 Bonegrip's Runes and Dooms[1] is a shop in the Forlorn Cavern in Ironforge. It's run by Gerrig Bonegrip, a secret member of the Twilight's Hammer clan, and is a black market for texts about the Old Gods. Also the warlock trainers Thistleheart, Brianthorn and Alexander Calder can be found here. In the shop nothing is sold to players, but there are some quests.
Known Inventory
Edit
References
Edit
Ad blocker interference detected!
Wikia is a free-to-use site that makes money from advertising. We have a modified experience for viewers using ad blockers

Wikia is not accessible if you've made further modifications. Remove the custom ad blocker rule(s) and the page will load as expected.