For the Bone Gryphon NPC found in Icecrown, see Bone Gryphon (NPC).

Bone Gryphon

Use: Calls a Bone Gryphon to serve as your flying mount. May only be summoned and ridden within Onslaught Harbor.
This item is provided for

 [80 Daily] No Fly Zone.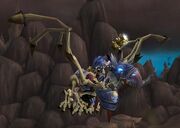 When called you will automatically mount the undead gryphon. This creature has 12,600 health.
External links
Edit