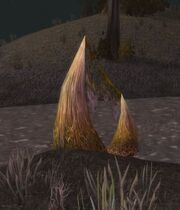 The Bogbean Plant can be found in Dustwallow Marsh. [50, 23] This plants appears while escorting "Stinky" Ignatz during the quest Stinky's Escape.
It's unsure what exactly the leaves from this plant are good for. Mebok Mizzyrix plans to use them for a potion, while Morgan Stern plans to cook with them.
External links
Edit
Ad blocker interference detected!
Wikia is a free-to-use site that makes money from advertising. We have a modified experience for viewers using ad blockers

Wikia is not accessible if you've made further modifications. Remove the custom ad blocker rule(s) and the page will load as expected.