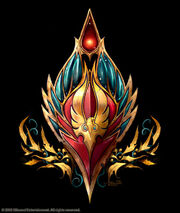 The Icon of Blood is the racial crest of the blood elves, and symbolizes their fall and subsequent rise during Third War. The drop of blood represents their brethren who fell to the Scourge, while the phoenix on the shield represents their own survival and return to power in Quel'Thalas. The golden leaves likely represent the forests of Eversong Woods.
Ad blocker interference detected!
Wikia is a free-to-use site that makes money from advertising. We have a modified experience for viewers using ad blockers

Wikia is not accessible if you've made further modifications. Remove the custom ad blocker rule(s) and the page will load as expected.