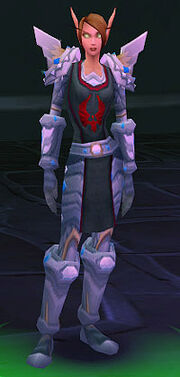 The Blood Knight Tabard is worn by important members of the Blood Knight Order, as well as blood elf paladins (players) who reach the rank of Master by obtaining their Thalassian charger.
Following patch 4.0.1, it can only be obtained by level 50 Blood Elf Paladins from the quest

 [50D] Weapons of Darkness from

 Master Pyreanor in Orgrimmar.
This item is a quest reward from

 [60D] True Masters of the Lightω τ ϖ.
External links
Edit
Ad blocker interference detected!
Wikia is a free-to-use site that makes money from advertising. We have a modified experience for viewers using ad blockers

Wikia is not accessible if you've made further modifications. Remove the custom ad blocker rule(s) and the page will load as expected.