Were you looking for the Battle.net Shop?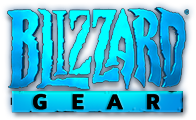 Blizzard Gear (in Beta as of February 2014) is the US-based (prices are in USD) return of the former "Blizzard Store" on the web and is intended for physical goods purchases as opposed to virtual ones featured in the Battle.net Shop. They have a variety of merchandise available, including Apparel, Plush, Toys, Statues, Peripherals and more. It is not clear what plans Blizzard has for the EU, however customers can purchase physical goods from the US store which offers world-wide shipping.
EU Gear?
Edit

 This article or section includes
speculation
, observations or opinions possibly supported by lore or by Blizzard officials.
*
At some point in 2017 (presumably), the URL redirected to https://gear.blizzard.com/us/ for browsing with a corresponding https://gear.blizzard.com/eu/ that does not return a 404 error, but does give the ominous message: "There was no Home CMS page configured or found." This could indicate that Blizzard plans to make the gear store work in the EU, but is still working on it.
See also
Edit
External links
Edit

Blizzard Gear
(US-only)
News

WoW Insider
Blizzard store re-opens
by Adam Koebel Feb 3rd 2014 3:00PM
Ad blocker interference detected!
Wikia is a free-to-use site that makes money from advertising. We have a modified experience for viewers using ad blockers

Wikia is not accessible if you've made further modifications. Remove the custom ad blocker rule(s) and the page will load as expected.