BlizzCon 2010 was announced on March 25, 2010 and will be taking place at Anaheim Convention Center on October 22-23.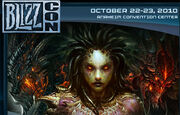 Activities
Edit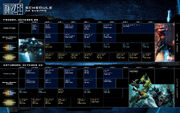 Discussion panels with Blizzard Entertainment developers
Hands-on play time with upcoming Blizzard Entertainment games
Community contests with great prizes

The standard Movies, Song, Art, Costumes, and Dance Contests are accepting submissions. Rules and Applications.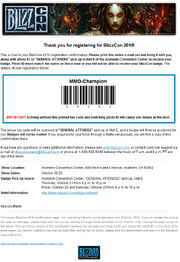 $150.00 USD per ticket (up from BlizzCon 2009, +$25.00 USD)
Sold in two batches:

Wednesday, June 2nd, 2010 at 7:00pm Pacific Time (California) (Sold out in ~30 minutes)
Saturday, June 5th, 2010 at 10:00am Pacific Time (California) (Sold out in ~30 minutes)
Swag/Goodie Bag
Edit
BlizzCon badge that grants access to BlizzCon
For StarCraft II players, a Grunty portrait icon
DirectTV will again be covering BlizzCon via a Pay-Per-View event, and is also going to offer a streaming internet video of the same feed. Price is $39.95 USD, and includes code for the companion Deathy and the StarCraft II Grunty portrait
There will be four (4) different coverage channels for the entirety of the event.
Sites with Semi-Live Coverage:

WoW.com (Unconfirmed, placed for future sites as an example, but then again, they do this every year).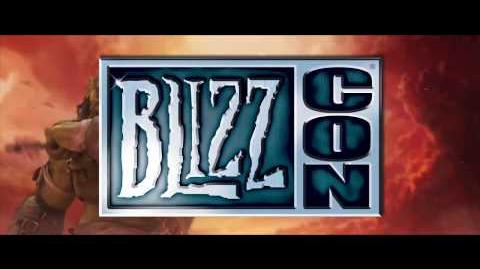 External links
Edit
News
Ad blocker interference detected!
Wikia is a free-to-use site that makes money from advertising. We have a modified experience for viewers using ad blockers

Wikia is not accessible if you've made further modifications. Remove the custom ad blocker rule(s) and the page will load as expected.