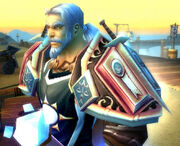 Blessed Spaulders of Undead Slaying are a rare plate shoulder armor. It gives bonuses to strength, stamina, and haste.
This item can be purchased for 15

from Neutral Argent Quartermaster <The Argent Dawn> in the Eastern Plaguelands during the Scourge Invasion event.
This items is part of the Blessed Battlegear of Undead Slaying set.
The data in the WoW Armory is currently incorrect for this item.
External links
Edit