Blessed Qiraji Acolyte Staff

Item Level

79

Speed 3.00
132 - 228 Damage
(59.8 damage per second)
+33 Intellect
+32 Stamina
Durability 120 / 120
Requires level 60
Equip: Increases spell power by 76.
Equip: Increases your hit rating by 16.
Equip: Increases your critical strike rating by 14.
"The weapon is infused and reinforced with Elementium."
Blessed Qiraji Acolyte Staff
is obtained by turning in
Imperial Qiraji Regalia
and 3
Elementium Ingot
to an NPC within the
Temple of Ahn'Qiraj
. This staff is one of three rewards to choose from.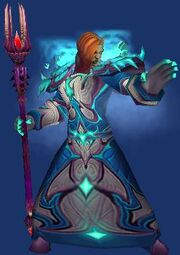 Blessed Qiraji Acolyte Staff is a quest reward from the quest Imperial Qiraji Regalia which starts with Merithra of the Dream in the Temple of Ahn'Qiraj in Silithus.
Patches and hotfixes
Edit

Patch 1.9.0 (03-Jan-2006): Added

External links
Edit
Ad blocker interference detected!
Wikia is a free-to-use site that makes money from advertising. We have a modified experience for viewers using ad blockers

Wikia is not accessible if you've made further modifications. Remove the custom ad blocker rule(s) and the page will load as expected.