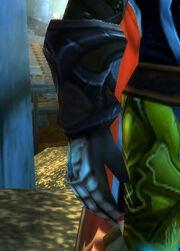 Blessed Gauntlets of Undead Slaying are an epic plate hand armor. It gives bonuses to strength, stamina, and haste.
This item can be purchased for 15

from

 Argent Quartermaster <The Argent Dawn> in the Eastern Plaguelands during the Scourge Invasion event.
This item is part of the Blessed Battlegear of Undead Slaying set.
External links
Edit