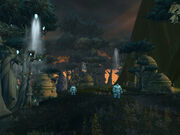 The Bleeding Hollow Ruins[20, 62] are the ruins of a village of the Bleeding Hollow Clan, located west of the Bone Wastes on the border between Terokkar Forest and Nagrand. The former Mag'har village has been overrun by Boulderfist ogres seeking new lands due to their conflict with the Warmaul clan.
Ad blocker interference detected!
Wikia is a free-to-use site that makes money from advertising. We have a modified experience for viewers using ad blockers

Wikia is not accessible if you've made further modifications. Remove the custom ad blocker rule(s) and the page will load as expected.