The Twin Blades of Azzinoth
104,188pages on
this wiki
Talk

35
The Twin Blades of Azzinoth
+43 Agility
+93 Stamina
Increases hit rating by 21.
Increases critical strike rating by 23.

The Twin Blades of Azzinoth (2 pieces)
(2) Set: Your melee attacks have a chance to increase your haste rating by 450 for 10 sec.
(2) Set: Increases attack power by 200 when fighting Demons.
Combined stats.
The Twin Blades of Azzinoth (aka Blades of Azzinoth)[1] are a legendary weapon set (which could be split into a set of weapons) that are wielded by the Lord of Outland, Illidan Stormrage.[1][2] Equipping both blades awards the Feat of Strength,

 Warglaives of Azzinoth. They drop from Illidan Stormrage in the Black Temple.
The Twin Blades of Azzinoth are a pair of weapons wielded by Illidan Stormrage. Azzinoth was a doom guard commander whom Illidan slew 10,000 years ago. Illidan took Azzinoth's twin warglaives and trained himself to use them. He has become exceedingly efficient with the weapons. When Illidan used the twin warglaives they were usually connected, but could be disconnected to form separate weapons. Once disconnected they could be reconnected to form a weapon once more.[1][2] The pit lord Magtheridon proved to be no match for the wielder of the Twin Blades of Azzinoth.[3]
Warglaive of Azzinoth
Edit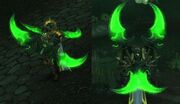 The Twin Blades of Azzinoth


Item Level

156

Speed 1.80
194 - 362 Damage
(154.4 damage per second)
+21 Agility
+46 Stamina

Durability 125 / 125
Classes: Warrior, Rogue , Death Knight , Monk
Requires level 70
Equip: Increases critical strike rating by 23.

Set: The Twin Blades of Azzinoth (1/2)
References
Edit
External links
Edit
Legendary items

Permanent
weapons

Permanent
armor

Permanent
rings

Encounter-limited
weapons

Gems

Items

Consumables

Quest items

Unavailable

GM items