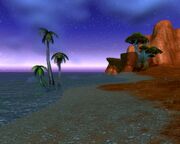 Bladefist Bay is a portion of the Great Sea off the eastern coast of central Kalimdor. It is mostly noted by travelers on the northeastern coast of Durotar around Skull Rock, and the southern coast of Azshara. Likely named after Kargath Bladefist, former chieftain of the Shattered Hand Clan.
In Cataclysm
Edit

This section concerns content exclusive to Cataclysm.
In World of Warcraft: Cataclysm the bay will gain a small port near Orgrimmar, with an active goblin ship.
Ad blocker interference detected!
Wikia is a free-to-use site that makes money from advertising. We have a modified experience for viewers using ad blockers

Wikia is not accessible if you've made further modifications. Remove the custom ad blocker rule(s) and the page will load as expected.