Blade of Wizardry

Item Level

100

Speed 1.80
51 - 95 Damage
(40.6 damage per second)
Durability 105 / 105
Requires level 70
Equip: Increases spell power by 199.
Equip: Your harmful spells have a chance to increase your haste rating by 280 for 6 secs.
Blade of Wizardry is an epic main hand sword. It gives a bonus to spell power and occasionally increases haste rating for 6 seconds. It has a natural orange weapon glow. Additional enchantment effects do not change the appearance of this weapon.
This item is a world drop.
This item has a huge amount of +damage. The most interesting feature is the chance, about 15%, to increase the spell haste rating for 6 seconds. This is the ideal weapon for casters, notably mages. When this item procs the buff is called "Forgotten Knowledge".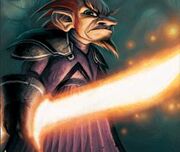 Examples of this weapon's proc: A 1.5 second cast scorch becomes 1.32 seconds and a 3.0 second cast fireball becomes 2.65 seconds. When combined with the troll berserking racial abiltiy at 30% health, a 1.5 second cast scorch becomes a 0.9 second cast and a 3.0 second cast fireball becomes 1.85 second cast.
NOTE: this information is most likely incorrect as of patch 2.2.0.
External links
Edit
Ad blocker interference detected!
Wikia is a free-to-use site that makes money from advertising. We have a modified experience for viewers using ad blockers

Wikia is not accessible if you've made further modifications. Remove the custom ad blocker rule(s) and the page will load as expected.