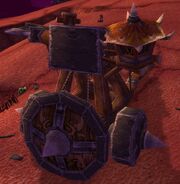 Blade throwers are large Horde towers that hurls sawblades. Several of these siege weapons can be seen along the Path of Glory leading from the Dark Portal through Hellfire Peninsula in Outland. The expedition Thrallmar uses these in their fight against the fel orcs of Hellfire Citadel, and once used them against the Alliance in Honor Hold. In

 [61] Laying Waste to the Unwanted, Horde Blade Throwers are burned to prevent them being used on the Alliance. Parts of some can also be seen at Zeth'Gor.
In Wrath of the Lich King, blade throwers are also used by the forces of the Kor'kron Vanguard. Some can also be seen ruined at Thrym's End, but who used them is unknown.
Ad blocker interference detected!
Wikia is a free-to-use site that makes money from advertising. We have a modified experience for viewers using ad blockers

Wikia is not accessible if you've made further modifications. Remove the custom ad blocker rule(s) and the page will load as expected.