Ad blocker interference detected!
Wikia is a free-to-use site that makes money from advertising. We have a modified experience for viewers using ad blockers

Wikia is not accessible if you've made further modifications. Remove the custom ad blocker rule(s) and the page will load as expected.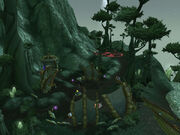 Blackwind Landing is a small outpost located just north of Skettis in southeastern Terokkar Forest (64.1|66.8). Quests to help you gain reputation with the Sha'tari Skyguard are available at this location once you have completed the

 [70] Threat from Above and

 [70] To Skettis! quests available near the flight path in Shattrath City.
List of NPCs
Edit