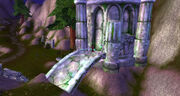 Blackhorn's Penance[21, 44] is a small area of land located directly southeast of Grove of Aessina in Mount Hyjal. It is here Tyrus Blackhorn has been imprisoned since Archimonde's defeat.
Inhabitants
Edit
Quest givers
Mobs
Both Tyrus and the weeds disappear after the area is phased.
Patch notes
Edit
Ad blocker interference detected!
Wikia is a free-to-use site that makes money from advertising. We have a modified experience for viewers using ad blockers

Wikia is not accessible if you've made further modifications. Remove the custom ad blocker rule(s) and the page will load as expected.