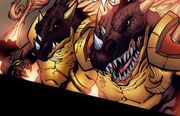 Black dragonspawn have the lower body of a reptile, with four legs and a tail. Their torso and arms are humanoid, while their head is that of a dragon. They have a scaled hide of lustrous ebony and eyes that are deep red. A black scalebane wears massive scale mail etched with draconic motifs, and a helm and shield with a crested black dragon design. A bejeweled greatsword hangs in a sheath across their back along with a lacquered composite longbow.[1]
References
Edit
Ad blocker interference detected!
Wikia is a free-to-use site that makes money from advertising. We have a modified experience for viewers using ad blockers

Wikia is not accessible if you've made further modifications. Remove the custom ad blocker rule(s) and the page will load as expected.