Black Planar Edge

Item Level

123

Speed 2.70
172 - 320 Damage
(91.1 damage per second)
Durability 105 / 105
Requires level 70
Requires Master Axesmith
Equip: Improves critical strike rating by 21.
Equip: Increases attack power by 44.
The
Black Planar Edge
is upgraded main-hand specialty axe made by Master Axesmiths who are the only ones who can wield it. The original
[

The Planar Edge

]
axe is consumed in the crafting. It gives a higher bonus to critical strike rating and attack power.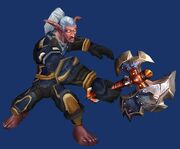 This item is crafted by Blacksmiths with a skill level of 375 who also have the Axesmith specialty.
The plans are taught by the Master Weaponsmiths in various cities.
Black Planar Edge as an ingredient
Edit
Blacksmithing
Edit
xternal links
Edit