Black Grasp of the Destroyer

Item Level

70

318 Armor
Durability 50 / 50
Requires level 60
Equip: Increases attack power by 28.
Equip: Increases your critical strike rating by 14.
Equip: On successful melee or ranged attack gain 8 mana and if possible drain 8 mana from the target.
Black Grasp of the Destroyer
is mail hand armor with strong anti-magical properties. For every successful melee or ranged attack, you gain 8 mana and your target loses 8 mana.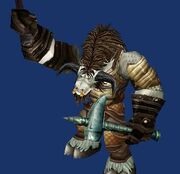 Black Grasp of the Destroyer is crafted by Blacksmiths with a skill level of 300.
The components are:
The plans drop off Moam in the Ruins of Ahn'Qiraj.
To take full advantage of the mana drain proc, the wearer might want to use a fast ranged or melee weapon. Dual wielding is ideal.
The mana drain can fail if the target has no mana or is immune to mana drain. Even in these cases, the wearer will gain 8 mana anyway.
External links
Edit
Ad blocker interference detected!
Wikia is a free-to-use site that makes money from advertising. We have a modified experience for viewers using ad blockers

Wikia is not accessible if you've made further modifications. Remove the custom ad blocker rule(s) and the page will load as expected.