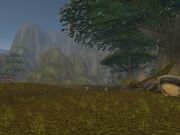 Black Channel Marsh [26, 48] is located in the southwestern area of Wetlands. It is mostly noted by travelers on the road to Menethil Harbor, and inexperienced adventurers are advised to take care because the marsh holds numerous raptor lairs and some of the hungrier beasts wander quite close to the road.
Ad blocker interference detected!
Wikia is a free-to-use site that makes money from advertising. We have a modified experience for viewers using ad blockers

Wikia is not accessible if you've made further modifications. Remove the custom ad blocker rule(s) and the page will load as expected.