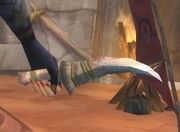 The Bite of Serra'kis is a dagger that is permanently poisoned with the venom of an ancient underwater beast.
The Bite of Serra'kis drops off Guardian of the Deep in Blackfathom Deeps. You can find him underwater, under the shrine where you find Twilight Lord Kelris.
External links
Edit
Ad blocker interference detected!
Wikia is a free-to-use site that makes money from advertising. We have a modified experience for viewers using ad blockers

Wikia is not accessible if you've made further modifications. Remove the custom ad blocker rule(s) and the page will load as expected.