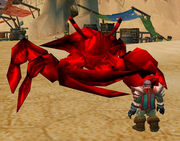 Bestial Wrath is a hunter ability learned at level 40 for hunters who have chosen the Beast Mastery specialization.
The ability gives the hunter's pet a temporary buff that increases damage dealt and breaks existing crowd control effects. Bestial Wrath causes the pet to turn red and increases their size. Hunters also gain a damage buff while having their abilities cost less focus.
Modified by
Edit
Patch notes
Edit
External links
Edit
Ad blocker interference detected!
Wikia is a free-to-use site that makes money from advertising. We have a modified experience for viewers using ad blockers

Wikia is not accessible if you've made further modifications. Remove the custom ad blocker rule(s) and the page will load as expected.