Ad blocker interference detected!
Wikia is a free-to-use site that makes money from advertising. We have a modified experience for viewers using ad blockers

Wikia is not accessible if you've made further modifications. Remove the custom ad blocker rule(s) and the page will load as expected.

Benediction

Item Level

75

Speed 3.00
134 - 222 Damage
(59.3 damage per second)
+10 Stamina
+31 Intellect
+12 Spirit
+20 Shadow Resistance
Durability 120 / 120
Classes: Priest
Requires level 60
Equip: Improves critical strike rating by 28.
Use: Calls forth Anathema.
Equip: Increases spell power by 56.
Cooldown: 30 Min
1 Sec cast
Benediction is the reward from the Priest epic quest line in Vanilla WoW. It is an epic quality staff, and it is the healer version of the staff, as it can also be turned into

 [Anathema], the Shadow Priest version.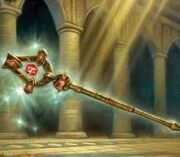 This item is created by using
 [Splinter of Nordrassil] together with
 [The Eye of Divinity], which is found from the cache of Majordomo Executus in Molten Core, and

 [The Eye of Shadow].
The holy-only critical strike chance was changed to spell critical rating, and subsequently upgraded to affect all magic schools with the introduction of the rating system.
Patch changes
Edit
External links
Edit
Lore
WoW Insider
Weapons of Lore: Benediction
by Anne Stickney May 4th 2012 at 4:00PM