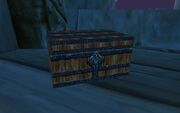 Benedict's Chest is located in Durotar[59.3, 57.7]. It can be found outside, at the top of the castle.
Requires
 [Benedict's Key] to open, or can be picked with the skill of 100.
Contains

 [Aged Envelope], which starts

 [7] The Admiral's Orders. A Kul Tiras Marine comes running up the stairs after you open the chest and take the envelope.
External links
Edit
Ad blocker interference detected!
Wikia is a free-to-use site that makes money from advertising. We have a modified experience for viewers using ad blockers

Wikia is not accessible if you've made further modifications. Remove the custom ad blocker rule(s) and the page will load as expected.