Belt of the Tracker

Item Level

115

457 Armor
+15 Intellect
Durability 50 / 50
Requires level 70
Equip: Restores 15 mana per 5 sec.
Equip: Increases attack power by 42.
Belt of the Tracker is an epic mail belt.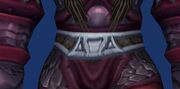 This item is a rare drop from trash mobs in Karazhan.
External links
Edit