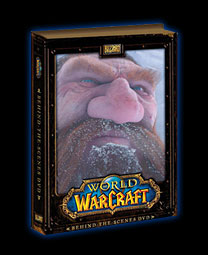 The Behind-the-Scenes DVD is a rare behind-the-scenes look into the Blizzard development process, including:
Over an hour of commentaries, featuring Blizzard developers discussing everything from art creation to game design.
Digitally mastered Blizzard cinematics, including the World of Warcraft intro and the full cinematics from Warcraft III: The Frozen Throne (appearing for the first time on DVD)
Exclusive World of Warcraft artwork and cinematic concepts
Ad blocker interference detected!
Wikia is a free-to-use site that makes money from advertising. We have a modified experience for viewers using ad blockers

Wikia is not accessible if you've made further modifications. Remove the custom ad blocker rule(s) and the page will load as expected.