104,156pages on
this wiki
Talk

21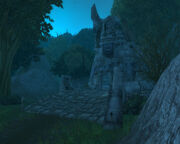 Beggar's Haunt is located in northeastern Duskwood, east of Manor Mistmantle and north of the road that leads into Deadwind Pass. The Horde-aligned tower holds two agents of the Forsaken — Deathstalker Zraedus and a member of the Royal Apothecary Society named Apothecary Faustin. Both are level 40 PvP, they are aggressive. A twisting path leads from the tower to a small pool and waterfall, near which rests an unmarked grave with two large statues similar to the ones on the Dark Portal (See Knight's Hollow).
NPCs
Quests

 [42] Nothing But The Truth
In Cataclysm

This section concerns content exclusive to Cataclysm.
The Horde NPCs have been removed. Now Abercrombie and his associated quests can be found here.[1]
References