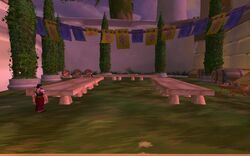 The Beer Garden is located behind the inn A Hero's Welcome in Dalaran[26.2, 46.5]. As such, it is strictly Alliance territory in Dalaran, and all members of the Horde will be teleported out if they manage to find a way into the garden. The Beer Garden is a tranquil area for the alliance members of Dalaran to sit down, have a drink of the greatest beer, or just find some peace from other players.
People in Area
Edit
Ad blocker interference detected!
Wikia is a free-to-use site that makes money from advertising. We have a modified experience for viewers using ad blockers

Wikia is not accessible if you've made further modifications. Remove the custom ad blocker rule(s) and the page will load as expected.