Battle-worn Sword

Use: Forges the battle-worn sword into a runebladed sword. Must be used near a runeforge.
"Dried blood coats the blade"

Found in the weapon racks of Acherus: The Ebon Hold in theScarlet Enclave.
As a quest objective
Edit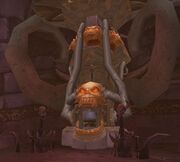 When forged at a Runeforge, becomes a
 [Runebladed Sword].
Patches and hotfixes
Edit

/

Patch 3.0.2 (14-Oct-2008): Added

External links
Edit
Ad blocker interference detected!
Wikia is a free-to-use site that makes money from advertising. We have a modified experience for viewers using ad blockers

Wikia is not accessible if you've made further modifications. Remove the custom ad blocker rule(s) and the page will load as expected.