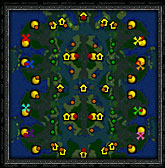 Banewood Bog is a truly cursed land. Rivers of poison, filled with demonic bile, eat away at the earth. Ancient wyrms, terrible and great, slumber quietly within the mire.
Ad blocker interference detected!
Wikia is a free-to-use site that makes money from advertising. We have a modified experience for viewers using ad blockers

Wikia is not accessible if you've made further modifications. Remove the custom ad blocker rule(s) and the page will load as expected.