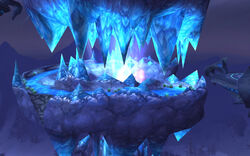 The Band of Variance is the lowest tier of the Oculus it is where the player enters and can exit the instance, via the Orb of the Nexus. The blue dragonspawn Drakos the Interrogator can be found on the floating disc on this level, holding Verdisa, Eternos, and Belgaristrasz captive.
Ad blocker interference detected!
Wikia is a free-to-use site that makes money from advertising. We have a modified experience for viewers using ad blockers

Wikia is not accessible if you've made further modifications. Remove the custom ad blocker rule(s) and the page will load as expected.