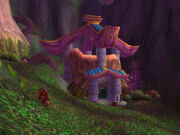 Ban'ethil Barrow Den is a small barrow den in Teldrassil that was once one of the sacred places built by night elves to hold sleeping druids of the talon. However, control over it has recently been taken over by the corrupted furbolg Gnarlpine tribe, and is now a dangerous place to venture for a lone night elf.
Questgivers
Edit
Ad blocker interference detected!
Wikia is a free-to-use site that makes money from advertising. We have a modified experience for viewers using ad blockers

Wikia is not accessible if you've made further modifications. Remove the custom ad blocker rule(s) and the page will load as expected.