Azure-Shield of Coldarra

Item Level

110

4668 Armor
115 Block
+31 Stamina
Durability 120 / 120
Requires level 70
Equip: Increases defense rating by 22.
Equip: Increases the block value of your shield by 33.
Vendor 33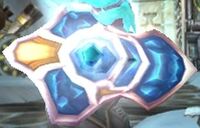 Azure-Shield of Coldarra is a powerful tanking shield that provides a bonus to stamina, defense and blocking power.
This item is sold by G'eras in Shattrath City in Terokkar Forest.
Patches and Hotfixes
Edit

Patch 2.1.0 (22-May-2007): All stats increased.

External links
Edit
Ad blocker interference detected!
Wikia is a free-to-use site that makes money from advertising. We have a modified experience for viewers using ad blockers

Wikia is not accessible if you've made further modifications. Remove the custom ad blocker rule(s) and the page will load as expected.