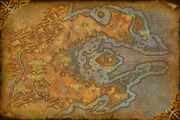 Azshara is a level 12-20 zone accessed after Durotar or the Goblin starting experience. The zone is a relatively directed-questing experience, starting at the Orgrimmar Rear Gate and heading counterclockwise around the zone.
Orgrimmar Rear Gate
Edit
Grabbit
Bloodfist
After Arborcide, to the Rocketway Exchange in Report to Horzak.
Orgrimmar Rocketway Exchange
Edit
After Dozercism, to the Southern Rocketway Terminus in Need More Science.
Southern Rocketway Terminus
Edit
Naga side chain
After Azsharite Experiment Number Two, to the Bilgewater Harbor in A Hello to Arms.
Bilgewater Harbor
Edit
TBD
Ad blocker interference detected!
Wikia is a free-to-use site that makes money from advertising. We have a modified experience for viewers using ad blockers

Wikia is not accessible if you've made further modifications. Remove the custom ad blocker rule(s) and the page will load as expected.