For statistics, see Warcraft II units.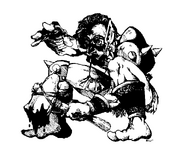 Axethrowers (also spelled axe thrower) are forest troll units that throw axes. They first appeared in Warcraft II: Tides of Darkness but have appeared in all following games.
Forest Troll Axethrowers
Edit

This section concerns content exclusive to Warcraft II: Tides of Darkness.
The Trolls of Lordaeron have suffered ages of attrition at the hands of the Humans, Dwarves, and Elves. The appearance of the Orcish Horde has given them the opportunity to ally themselves with kindred spirits with whom they can seek revenge upon their many enemies. More agile than the brutish Orcs, Trolls employ throwing axes - along with a cunning attack and retreat stratagem - to assail their foes. This combination of speed, range and the ability to bring down threats from above makes them a valuable addition to the Orcish Horde.[1]
Axe throwers in World of Warcraft
Edit

This section concerns content exclusive to World of Warcraft.

References
Edit
Ad blocker interference detected!
Wikia is a free-to-use site that makes money from advertising. We have a modified experience for viewers using ad blockers

Wikia is not accessible if you've made further modifications. Remove the custom ad blocker rule(s) and the page will load as expected.